Presenters gather from all over the Globe
Steering Committee
The World Credit Congress and Exhibition (WCCE) is guided by a dedicated and accomplished Steering Committee, composed of esteemed professionals from around the world. These individuals bring a wealth of experience and expertise to the planning and execution of our congress. Get to know the members of the WCCE Steering Committee for 2024:​
Luis Perez
(Mexico)
He is a prominent opinion leader in the global credit and collection arena. Luis is a lecturer and internationally recognised author and he provides training to more than 800 companies on 4 continents, including executives and credit associations. He consults on issues related to credit risk analysis, account management receivables, motivation, leadership, teamwork and organisational development. Luis is the founder of the Educational Committee of the WCCE. He was appointed in 2009 as the Managing Director of The Profit Centered Credit Group, an international group of organisations, consultants and promoters of a new profit vision in Credit Management. Luis holds a Masters in Psycho Training from the University of Technology International, Murcia Spain. He is a Master Credit Executive endorsed by the Society of Certified Credit Executives of ACA International. Luis is an Executive Coach accredited by ICC and author of "Collections Strategies for Commercial Accounts", co-author of "Assertive Negotiation, a new vision in Collections, "The Best Kept Secret Profit (USA)" and  "Guide for Handling Objections in Collections".
Eugene Joubert
(South Africa)
Host of the 2013 and 2020 World Credit Congress in South Africa. He is Fellow of the Institute of Credit Management in South Africa and the United Kingdom. Eugenè is a Master Credit Executive of the American Creditors Association (MCE) and a Member of the Institute of Directors (M.IODSA). He holds a MBA (USA) in Finance and Credit and is a CP (Credit Professional) of South African Qualifications Authority (SAQA). Eugene moderated on Credit Management exams and drafted the Professional Credit Practitioners syllabi for the Federation of Credit Management and also drafted the Act, Regulations and Code of Conduct adopted by the SA Government to regulate the occupation of a Debt Collector. He presented various papers to the Credit Bureaus, Debt Collectors Fraternities and the International Credit forums all over the world.
Josef Busutill
(Malta)
He holds a MBA from Henley (UK), Dip. M MCIM and FCICM. Josef was involved in the setting up the Malta Association of Credit Management in 2021 and is a Director of the MACM. He has been a member of the Council of Federation of European Credit Management Associations (FECMA) since May 2003. After twelve years occupying the role of FECMA Vice President, Josef was elected President of FECMA in November 2016, a post he held for four years. He is an intuitive lecturer and speaker, specialising in trade credit management strategies that enable the credit function to gain and sustain competitive advantage in the market, whilst ensuring sound cash flow and long-term profit. Josef delivers in-house training and lectures for organised groups and he contributed to a number of training programmes and seminars organised by highly reputable international organisations and institutions, such as The European Commission, in a number of countries, including Antwerp, Berlin, Bucharest, Dubai, Dublin, Johannesburg, Kuala Lumpur, London, Madrid, Malta, Mexico City, Moscow, Paris, and Vilnius. Josef is a regular contributor of business articles to the international business press.
Harry Strausser
(United States)
Harry Strausser, representing ACA International, joins our Steering Committee to bring the unique perspective of the United States to the forefront. His extensive experience in the American credit industry will help ensure that the congress addresses the specific needs and challenges faced by credit professionals in the U.S.​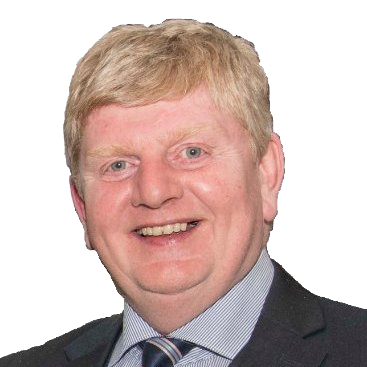 Declan Flood
(EIRE)
He is the Founder and Chief Executive of the Irish Credit Management Training. Declan is a specialist Credit Management Author, Trainer, Educator and Speaker. He is recognised as a thought leader in Credit worldwide for his total business approach to Credit that is not only about getting paid in full and on time, it is also about maintaining excellent customer relationships, finding a way to deliver every order, and promoting profitable sales. He has spoken at conferences around the world from Mexico to Canada and Helsinki to South Africa including London, Malta and his native Ireland. Declan is an energetic and motivational speaker, who challenges the audience with new thinking on the topic and presents a dynamic picture of the 21st Century evolution of credit and how it should be managed. You are guaranteed to get loads of practical action points that you can take back to the office and put in place straight away, to get better results, with less hard work.
Claire Sandbrook
(United Kingdom)
Claire Sandbrook has joined the Steering Committee to organize and promote the 2024 Congress after the success of her UK TV Show "Call The Bailiffs, Time to Pay Up" which was shown on TV in the UK and achieved over 9 million views. You can watch the series today from any part of the world on YOU TUBE - check search Shergroup TV and subscribe to the Shergroup Channel. Claire works at the sharp end of credit - and across the world sheriffs/bailiffs and judicial officers are responsible for the enforcement of debts that cannot be paid voluntarily. From her long public service to the UK High Court, Claire is a past Chair of the High Court Enforcement Officers Association, and a Vice-President of the UK's Chartered Institute of Credit Management. She is also a Practising UK Lawyer and has written books and contributed to many policy initiatives in the UK credit industry. Today she runs the Shergroup brand in the UK, US, India and the Philippines - and that is why the Congress is coming to Orlando as Shergroup's US office is based out of Celebration, Florida. The invitation to join this prestigious event has been a way for Claire to bring together her considerable network of credit professionals across the world. It seems right that for this event the EPCOT ball of Walt Disney World replaces the planet of the usual Congress symbol. Claire sincerely believes in global networking and learning and so she has made the theme of this Congress about building a global credit community to which everyone in credit is welcome!
World Credit Congress & Exhibition 2024